Find  ease   Find  energy   Find  you
Foundation's gentle chiropractic combines contemporary science with your body's
natural healing ability to remove pain, eliminate tension, realign and heal.
Providing a fresh solution…
Without forceful cracking or twisting
 Are you tired of pain, tension or fatigue that won't go away?
Chronic pain
Headache
Poor posture
Fatigue and low energy
Recurring injuries
Restricted joint movement
Anxious, lack of clarity
Disconnected, trouble focusing
Reduced performance, slow recovery
Feeling stuck in life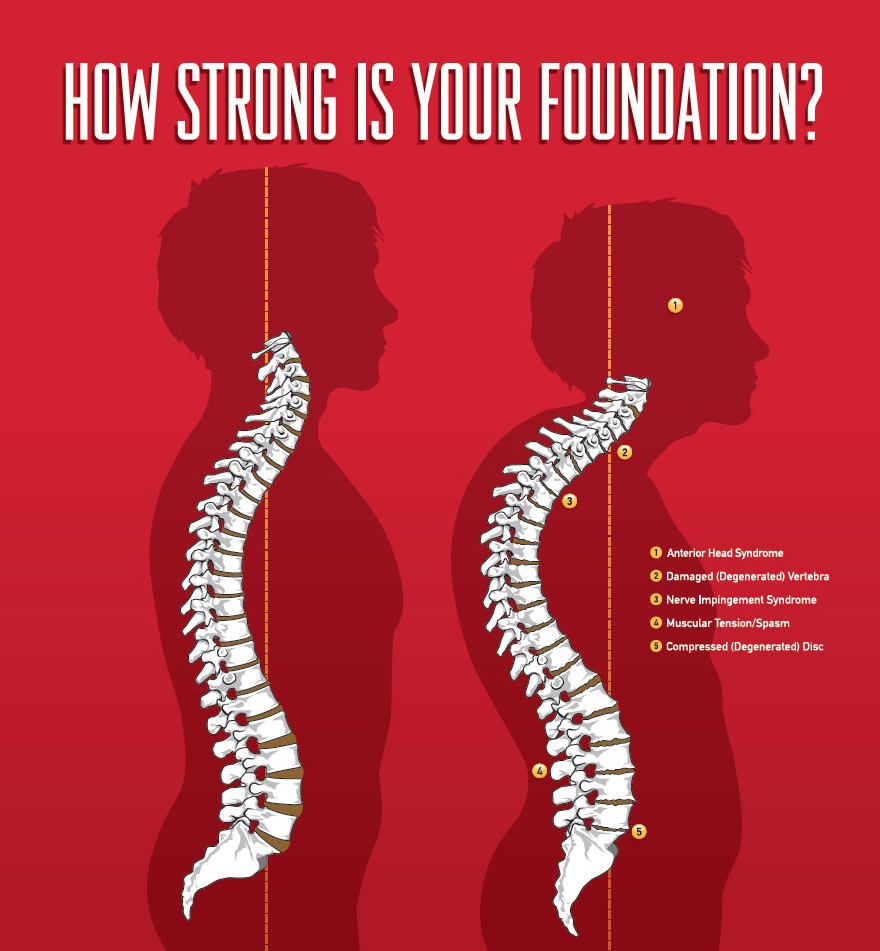 …Did you know all of these problems can be caused by Physically Retained Stress?
Physically Retained Stress
Conventional chiropractors and therapists focus on temporary pain relief, increasing range of motion or reducing the spasm, often achieving good results.
At Foundation, we focus on the Physically Retained Stress.
People think of "stress" as being overworked, traffic jams, bills to pay etc. These may be events that trigger stress, but the stress is the way your body responds to the event.
The first way  stress shows up in your body is as tension.  The first place stress shows up is in the spine.
Modern life gives us many reasons to be stressed. It's a normal physical response. The real problems begin when that stress gets stuck and accumulates in the body past it's use-by date.
This is Physically Retained Stress. It not only distorts your physical structure causing tension and pain, it also alters the function of your organ systems, effects your thoughts, behaviours and quality of life.
Indicators of Physically Retained Stress include chronic tension, postural imbalances, reduced physical or mental performance and a general lack of "get up and go".
Clear Your Physically Retained Stress
Researched and refined over 30 years, Foundation's unique Neurostructural Optimisation works with your body to address Physically Retained Stress.
Instead of forceful cracking and twisting, Neurostructural Optimisation uses sequences of precise fingertip contacts, applied gently to specific points along the spine.
It's a guided process,  empowering you to be an active participant in your healing, as you discover subtle movements and breathing patterns to resolve physically retained stress.
Your nervous system learns to clear physically retained stress that underlies symptoms. Your body is then free to self-correct and re-balance from the inside out – so you can get back to life.
Gentle Chiropractic, NO forceful cracking or twisting
Thorough Consult and Neurostructural assessment
Immersive Care Plan designed to your specific requirements
Complementary rehab, breathwork and recommendations
Supported by peer reviewed, published research (see below)
 Relaxing 30 minute sessions
Conveniently located in Mona Vale
2) Neurostructural Assessment
If you're a fit for what we provide and wish to  proceed, we will then complete a  thorough Neurostructural assessment, ($90) which includes your first adjustment.
3) Personalised Immersive Plan
Using the assessment results, we design your personalised Immersive Care Plan. Including specific adjustments, breathwork, and complementary health recommendations.
What the Science Says…
Two groundbreaking peer reviewed journal papers about the technologies and protocols behind Foundation's Neurostructural Optimisation
Quality of Life Improvements
This research by University of California Irvine Medical College studied over 2800 patients receiving this gentle type of care.
The study reported improvements with:
– Physical and Mental-Emotional Well Being,
– Response to Stress,
– Life Enjoyment,
– Overall Quality of Life.
Results demonstrated 76% of patients improved across all categories assessed. With no limit on the improvements even after three years of care. 99% of patient's reported a wish to continue with their care.
Nervous System Tune-Up
Professor Edmund Jonckheere Ph.D. of University of Southern California investigated improvements in patients nervous systems as they were receiving this care.
Using surface electromyography (sEMG), Prof, Jonckheere monitored changes to patients spines during treatment sessions.
Researchers observed phenomenon associated with greater spinal energy efficiency and increased nervous system organisation.
This research has been presented internationally and published in the Journal of alternative and Complementary medicine.
Full References and 20 more Peer reviewed papers on our 
Videos, Articles, Free Stuff…
Stay connected for Information and Inspiration to improve your health